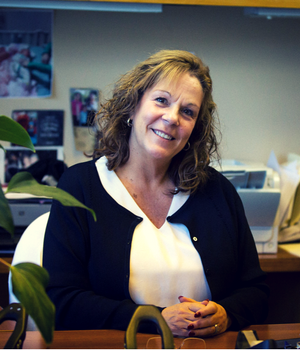 Office Manager
Cherrie Jopling is our office manager extraordinaire and has been with Curtis & Bissonette, Inc. since 1989. The backbone of our office, she not only keeps the schedule moving for Gwyn's business appointments but makes sure Gwyn is on time for soccer games, dance rehearsals and even lets her know when the weather is perfect for a morning ski run.
When Cherrie goes away on vacation, the general consensus around the office is, "So who approved Cherrie to be on vacation for a week?"
Truth be told - we're not saying that everything falls apart when she's away, we're screaming it.
Born in Jacksonville, NC, but raised in Saratoga, NY, Cherrie moved to Lake Placid after high school. She raised her son here and has recently become a grandmother to a slightly spoiled set of twins.  She lives here in Lake Placid with her dog Boone, and two kitties.